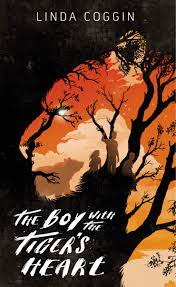 The cover of The Boy with the Tiger's Heart is one of the most beautiful covers I've ever seen. When I picked up the book, I didn't notice the tiger, and when I did, it took my breath away!
My reading of the book was certainly influenced by how beautiful it was. Every time I closed the book to take in what I had read, I saw that tiger, those wonderful silhouettes, the wonder of the image. And the book was impressive.
Set in a dystopian city where the wild is considered so dangerous that it must be destroyed, The Boy with the Tiger's Heart is the tale of three children who want to know what the world beyond the Green Wall is like. Jay, the boy with the tiger's heart, is an incredible character that made my hair stand on end.
A pacy book, I kept reading with a mixture of fascination and horror. I enjoyed it and I hated it. But it was well worth a read.