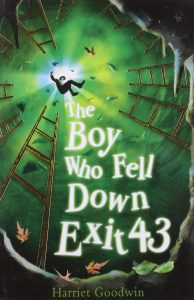 One day before his birthday, Finn decides to take his car out, illegally of course. The timing is wonderful or terrible, depending on how you look at it. Because he becomes the boy who fell down exit 43 and is charged with the responsibility of saving the underworld.
The Boy Who Fell Down Exit 43 takes the reader on a crazy ride, meeting dead people who are still attached to their worldly possessions and not-so-worldly beings. I chuckled my way through it, delighting in the twists and turns of the joy ride.
When I got to Chapter 10, though, two chapters before the end of the book, I was a bit tired of it.
Yes, I enjoyed the book.
Yes, it was a quick read.
But my excitement peaked too early and I did not find the end as satisfying as I should have, even though everything that should have happened did happen.
When I turned to the last page of the book, a blank page, I realised that another reader had, perhaps, had a similar reaction and had felt that the end was not quite satisfactory.
Even though I don't usually like it when children in books, I could not resist putting this up!