It's been a while since I wrote, mainly because I've been reading. Here's a look at some of what I've read recently.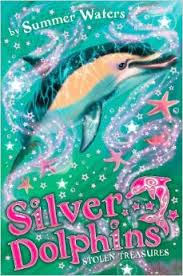 As a child, I enjoyed reading and collecting the entire Animal Ark series. As I grew older, I learned that Lucy Daniels, the author of the series, did not exist. Just like Carolyn Keene and Franklin W. Dixon. While I never enjoyed Nancy Drew and Hardy Boys, I loved Animal Ark. I loved the names of the books – Owl in the Office, Hamster in a Hamper, Roo on a Rock … I wanted to have them all.
I imagine the Silver Dolphins series somewhat like that. The stories, in themselves, may not be memorable, but Stolen Treasures is a sweet story that build loyalty in young readers for the series as a whole. Children are always animal-lovers. Some are more vicarious in this love than others, but most enjoy books that celebrate animal love.
Stolen Treasures reaches out to exactly that love, creating all the sweet emotions of fear, the desire to act and, ultimately, happiness. In some ways, its predictability is what makes it enjoyable.
I picked up Spirit of the Titanic very curious about what it had in store for me. We've heard, read and watched so much about the Titanic; how would this be different?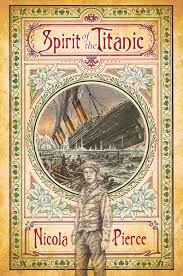 It was different and charming. I rarely read slow books, but I thoroughly enjoyed this one. I read it slowly, a few pages at a time, marvelling at the detail of the narrative. The 'spirit' of the Titanic is the ghost of a young boy who falls to his death while working towards putting together the ship of everyone's dreams, the Titanic. The words 'practically unsinkable' do the rounds all the time, and Samuel James Scott is filled with pride at the thought of his little role in creating this masterpiece. The moods of the ship are beautifully portrayed, from the hoity-toity upper class to the humble third class passengers, travelling to America in the hope of a better future.
Perhaps it is the knowledge of the tragedy that is bound to follow that reaches out to the reader through all the little conversations and descriptions. We know what is going to follow, just as we do when we read Jean Rhys' Wide Sargasso Sea, and that makes the loss even more tragic.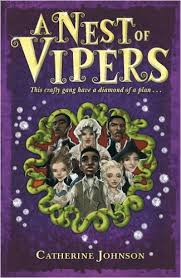 What can Mother Hopkins do to rise above street crime and set up for herself in Bath? With her wits and her extended 'family', she is determined to make it happen. She is too old to keep up with day-to-day petty crime. She must do something big.
At her beck and call are beautiful 'Bella', who has been married several times, only to be rescued by rich fathers who want to save their sons from scandal. Clever Addy is used to being a boy, and she works well with young Cato Hopkins. Sam, an escaped slave, is trying to scrape a living that is above board, but it is difficult in 18th century London. This story of tricksters made me chuckle and applaud. What happens, though, when Cato gets caught while trying to pull off the biggest trick ever?
A wonderful read, A Nest of Vipers plunged me into the life of London, in an almost idyllic family where blacks and whites meet and work together, even though the world outside the Hopkins family is nowhere near as equal …
| | |
| --- | --- |
| Title | A Nest of Vipers |
| Author | Catherine Johnson |
| Genre | Historical Fiction |
| Rating (out of 5) | 4 |
| Age-group | 10+ |
I have always been a little afraid of science fiction. What if I don't understand? Asimov never caught my fancy. I know nothing about robots. What interest could science fiction hold for me?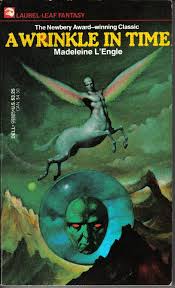 A Wrinkle in Time changed that completely. As usual, it was the name that reached out to me: a wrinkle in time; what a charming idea! It was after I picked up the book that I discovered two things about the book that drew me to it further. The first was that Madeleine L'Engle received rejections from over twenty publishers before A Wrinkle in Time was accepted – and then it went on to become a bestseller. Secondly, a crater on Mercury has been named after Madeleine L'Engle! I could not help being awed by that.
Charles Wallace, with his clear blue eyes, is a kind of new human. Children at school think he is stupid, but his parents believe that he is possibly the most intelligent of the lot, just different from the boys they see around them. The problem, though, is that Charles Wallace's father is no longer around. His sister Meg Murry, not a special child in the way Charles Wallace is, is determined to find him. With the help of Mrs Whatsit, Mrs Which and Mrs Who, the children, accompanied by a friend called Calvin begin a frightening journey in search of their father. The search takes them to new and dangerous places, beyond Meg's regular comprehension of space and time.
Even if Meg does not understand, she knows she must succeed, or what is the point of it all?
| | |
| --- | --- |
| Title | A Wrinkle in Time |
| Author | Madeleine L'Engle |
| Genre | Science Fiction |
| Rating (out of 5) | 4 |
| Age-group | 12+ |