My European travelogue has to wait; I went to Bhigwan yesterday.
A journey of two hours brought us to Bhigwan, which has a lake that is roughly east-south-east of Pune. Flamingos, they say, come to Bhigwan, and stay there till the end of February.
We left home at 5 in the morning, but by the time we got on to the boat at Bhigwan, the sun was well up in the sky, and we knew that we would see nothing. Birds, we know, come out only early in the morning, before it gets hot.
How wrong we were!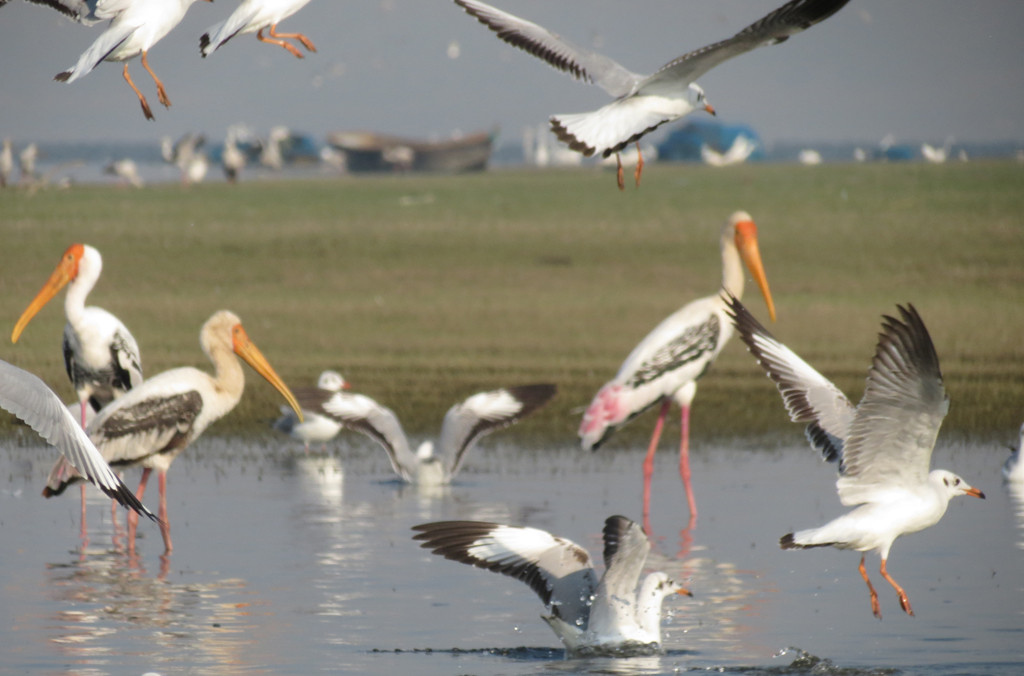 Flamingos, spoonbills, open-billed storks, bar-headed geese, cormorants, gulls, glossy ibises, black-headed ibises, terns, grey herons, egrets, kingfishers … We saw them all. My eyes darted from one to another, noticing details of each bird because we saw so many of them. We saw enough birds up close, right there, flying above our boat. We heard their calls and saw them hovering over the water, catching fish and drying their wings.
The highlight of the morning, though, was the painted stork. The flamingos are lovely, yes. They are tall graceful birds, dignified and aloof. They are beautiful creatures, standing in flocks with their stick-like legs and curving necks.
But the painted stork reached out to us.
The lady rowing the boat had some fish with her, which she threw to the birds. The gulls swooped down, snatching, quarrelling, crying out for more.
And the painted storks slowly approached. They were not like the gulls, flying everywhere and squawking. They were slow, methodical. They watched us and eyed the fish. They anticipated, sometimes incorrectly, where the fish would fall, and they used their long legs instead of their wings to snatch the fish thrown their way.
And they allowed us to watch them. We saw the beautiful patterns on their wings. We saw the pinkish tinge to their feathers. We saw their enormous yellow beaks and their sharp eyes. Not through a zoom lens; with our own eyes.
All of us had the same reaction when we left, "We'll come again soon."