The thrill of performing is here again! A little performance, a private performance this time – not on a stage, and for barely twenty people.
"We'll do it in a very simple way," said my teacher. "Those who are playing boys will dress in salwar-kameez. The girls will wear practice saris."
Doing it at my teacher's house, we began to play with the lights. Black-outs, yellow light, white light – we could do that much.
"Krishna at least should wear Krishna costume," my teacher amended. "And Radha, of course."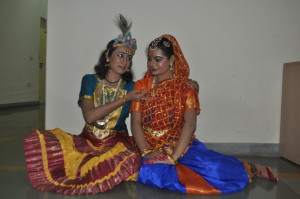 We used a stool as a cradle for baby Krishna as we practised, and we spoke about how we could decorate it. I brought a beautiful doll that looks like a real baby. Another dancer brought a lovely cradle.
"Even the others, like Yashoda and Kamsa…" my teacher said, thoughtfully. "It will be better if you wear costumes, I think."
The kitchen and balcony were our wings; the music was cut to perfection.
"And so, you can all wear costumes, do a little bit of make-up and wear some jewellery," concluded my teacher.
So we have a full-fledged performance on Tuesday evening! Presenting – Kasturitilakam!