When I started reading Being Billy, I felt uncomfortable, but I did not know why. I just could not lay my finger on what made me draw into myself and step back from the book.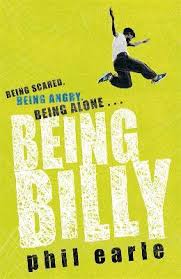 After a few pages, I realised I was supposed to feel uncomfortable. The book wanted to reach within me and squeeze something that I had buried deep within. For as long as I resisted that, the book made me uncomfortable. The moment I allowed it to touch me, I sobbed my heart out. Sitting in a train, oblivious to the world around me, I sniffed and licked the salty tears that poured down my cheeks.
Billy is a young boy forced to be older than he is. A 'lifer' at a home, surrounded by carers whom he calls 'scummers', Billy has only one soft point: his twin siblings six years younger than he is. Other than that, Billy is just a mix of violence and anger, unwilling to be loved, deliberately shoving people out of his life. Billy feels rejected, but wants no one to pity him. Instead, he discovers that uncontrolled anger is the only way someone as lonely as he is can feel alive.
Being Billy made me understand a little better what causes social misfits and delinquents. It built in me a growing admiration for those who spend their lives – not their money – on working with children who feel unloved and rejected. It made me realise how affection comes from the most unexpected places, and loneliness exists in different forms everywhere.
| | |
| --- | --- |
| Title | Being Billy |
| Author | Phil Earle |
| Genre | Fiction/YA |
| Rating (out of 5) | 5 |
| Age-group | 13+ |