When I was a child, my parents and I went to Darjeeling. We did a very touristy thing – went on a 'Fun Ten' tour of ten points in Darjeeling that visitors must see. This included a ride in a cable car and a visit to the zoo that housed a red panda. When we got back to the hotel, the diligent diary-writer that I was, I asked my parents and sister to rate what they liked the most.
Today, I realise how unfair that was on my parents. I was able to choose my favourites quite easily as a child, but at Gangtok today …
I look out of the hotel window.
To my right are snow-capped mountains.
To my left are snow-capped mountains in the distance.
Everywhere, leading to those beautiful mountains are mountains covered with trees.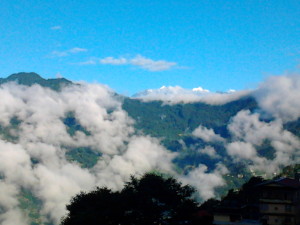 We went to Rumtek Monastery. Waterfalls everywhere. We even went especially to see one.
The smell of bamboos in the rain.
The spray from the waterfall.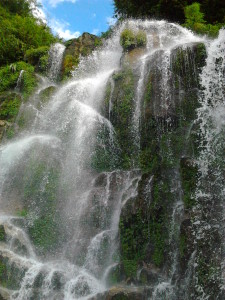 We went to 'Execution Point', where, apparently, the erstwhile king used to try criminals and throw them off if he found them guilty. There, we could see the magnificent river below. The valley was green after the rain. Clouds were gathering over the hills.
The beauty of the hills – can anything come close to it?