Bangalore is probably among my favourite cities in the world. I love the weather, I love the trees (even though so many have been cut), and most of all, I love the mood of the city. As a child, I used to spend every summer there, at my grandparents'. Now, I continue to go there at least once a year, sometimes more.
This year, I went for my great-aunt's 80th birthday. For a long time, my great aunt and great uncle have been asking us to perform at the senior citizens' residency where they live, and we finally did! It was lovely, absolutely lovely.
They last saw us perform when we did our Arangetram – over 15 years ago. To their minds, we had just continued. We performed and all of that, but I don't think they expected us to be professional dancers. They were overwhelmed, and that's what makes me feel that a performance was possibly the best gift we could have given my great aunt for her 80th birthday. It was special in so many ways!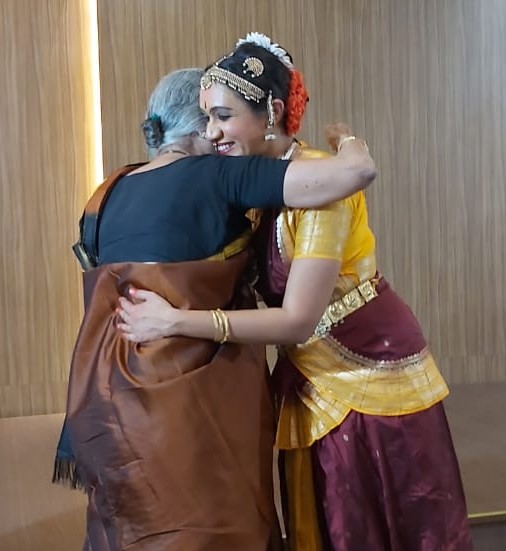 And of course, loving Bangalore as we do, we stayed on for a few more days, and I finally did so many things I've been planning to do for ever so long!
For one, I visited my lovely, warm editors at Pratham Books. Purely by chance, I colour coordinated with the office! I did a video recording of my first picture book, Today, I Am, and was fed yummy tart made by American Dessert Uncle – you'll have to visit the Pratham office to hear that story, though you can listen to Today, I Am by clicking on the picture.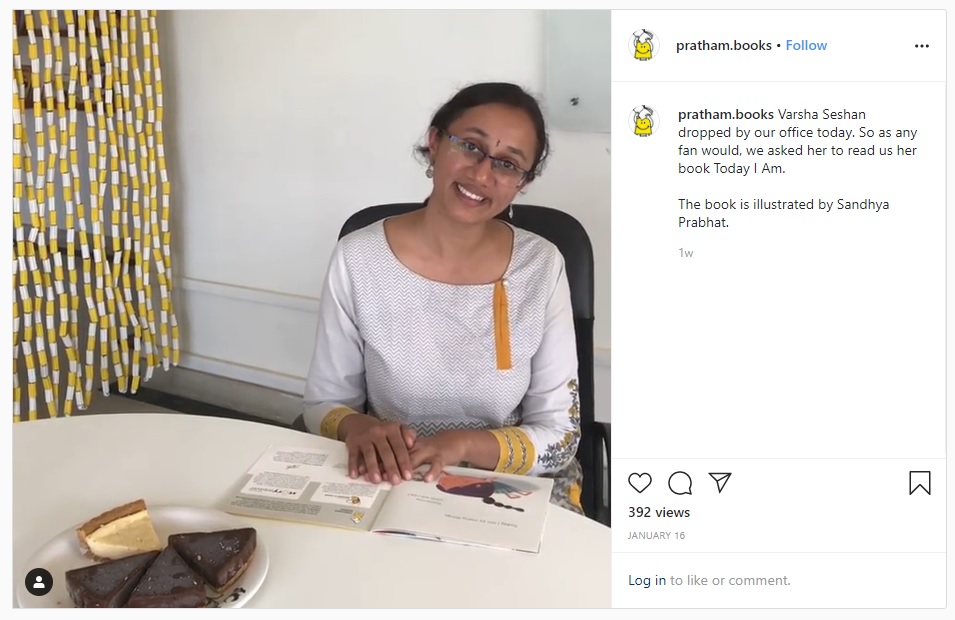 I also finally went to Lightroom, a children's bookstore I've been intending to visit for a while. And can one ever resist books? Here's what I bought from their super Lightroom Seconds collection. And the best part is that I went there with my sister, so she has her loot too!
Plus, look! Two of the books I bought are autographed. Sure, I'm Not Butter Chicken is addressed to Aditi, but I could pretend I'm Aditi for a bit …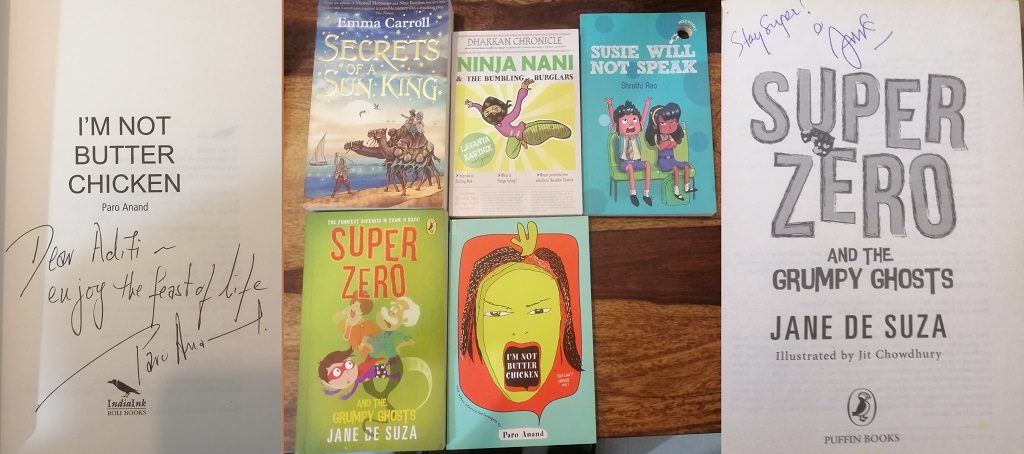 I then made my way to Champaca, a library-bookstore-cafe, and I found Today I Am in their library! Over the couple of hours we spent there, we had lunch and read-read-read until it was time to go home.
Champaca also has a lovely #ProtestPostcard – write your protest to your representative, drop it into the little red letterbox they have there, and they'll post it for you. I loved the idea!