However comfortable a waiting-room may be, it is not a comfortable place to spend the whole night. With hard steel chairs with immovable handles as beds and backpacks as pillows, the night seemed endless. We waited forever for the sun to rise, growing colder and colder as the night went by. At 5:30 in the morning, we finally decided we had had enough of the waiting-room, and we went for a walk.
If we had thought the station was cold, outside was freezing. The small consolation was that everything was beautiful. We passed Mozart's house and admired delightful miniatures in shop windows. We saw bottles of all shapes and sizes displayed in some shop windows, and dolls arranged in others. We walked farther and farther, bringing life back to our freezing legs.
And we got back at 9:25 for The Sound of Music tour.
That was the most expensive thing we did. (What came a close second was the Parc Asterix, which was fun, too, but that does not fit into the Salzburg story.)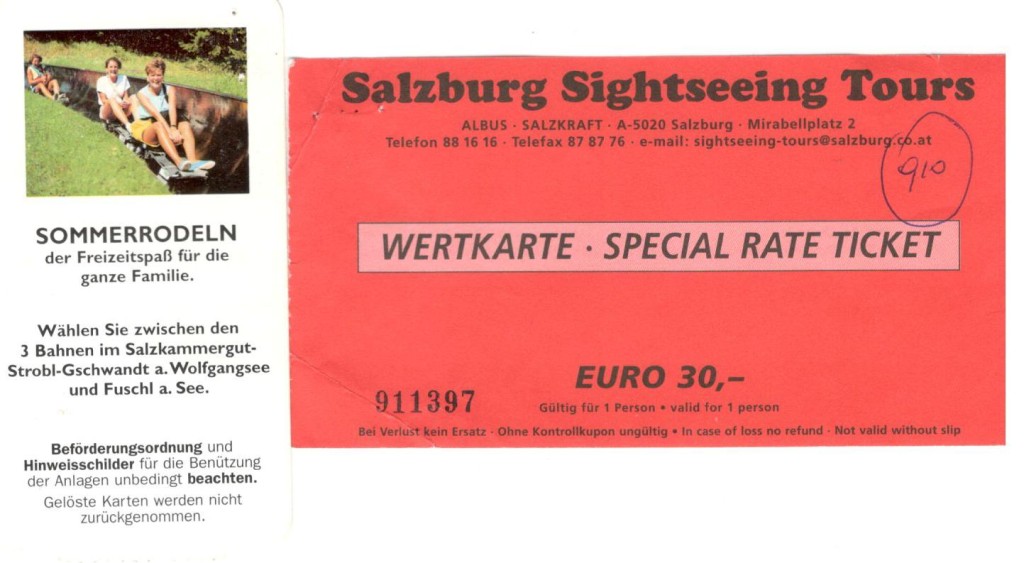 From the moment we got onto the bus, we were thrilled.
We looked at the rather plain church where Maria married Captain von Trapp. I looked wide-eyed at the peeling paint, filling my mind with details so that the next time I watched the film I could say, "I remember that!"
We visited the lake in which, during the shooting, the littlest von Trapp child nearly drowned. She was supposed to fall out of the boat on the same side as Maria, but she fell on the other side and could not swim!
We saw the gazebo where Liesl danced in white, singing I am sixteen going on seventeen – and learned that there were no shots of her legs because her ankle was sprained and she was wearing a bandage.
We sang all the songs from the movie as we visited one site after another. We shook our heads at the filmmakers when we learned that the final scenes where the von Trapp family escape from Austria are shot on hills leading to Germany because the ones leading to Switzerland weren't picturesque enough!
Summer tobogganing down an Austrian hill-slope, we laughed in delight, hardly able to believe that we were actually there in Salzburg, the land of The Sound of Music.
Backpacking through Europe, and saving each penny,
Planning our journeys, not one, but so many!
Museums and churches and mountains and kings –
These are a few of my favourite things!