Tempers were frayed on that journey to Pisa.
What was the point of going to Pisa at all?
Pisa was just a tourist gimmick, like the Brindavan Gardens in Mysore.
The Leaning Tower of Pisa was the only thing to see; it could not be worth it.
We would spend just a few hours there.
I would rather go to Florence.
Grumpy moods made us assume that the lady in the train compartment with us was also grumpy, so we avoided talking to her for quite a while. Finally, when it seemed that the bad temper in the air was tangible, we decided to take our minds off things and make conversation.
Things looked up from there on. The lady, we discovered, was not grumpy at all; she was just self-conscious about her English. She told us how to get to the leaning tower, where we should get off, what buses she thought would take us there … It was perfect!
We bought 60-minute bus passes and hopped on to a bus.
"Will this take us to the leaning tower?" we asked.
The driver responded in Italian. We understood not a word.
"Where should we get off?"
The driver said something again. The total comprehensible conversation there was nil.
Giving up on Italian, he gestured to us to get in, and, a while later, to get off.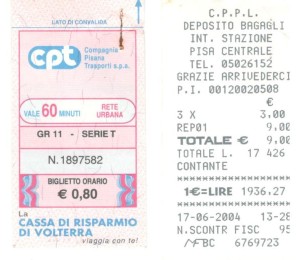 We scrambled out of the bus; fortunately we had deposited out baggage at the 'bagagli' at the station.
There was no tower in sight.
"How is this possible? What else do foreigners come here to see?"
All we could see was a structure that looked like a cathedral. And the bus was gone.
There was nothing else to do; we walked towards the cathedral. It looked interesting enough, we said. We might as well go and see it. We walked towards it, trying to make the best of things – and there was the tower peeping out from behind to say 'hi'!
Tired legs and disgruntled moods flew away; the tower looked so friendly!
We did not go up to the top of the tower; it was too expensive at 15 euros per head, when even going to the top of the Eiffel Tower cost less than 7 euros. But we were happy.
The Leaning Tower of Pisa is one of just two souvenirs I bought during those weeks of backpacking in Europe.
It's still here on my desk, and it still makes me smile.