So much excitement, so much fun!
I attended the Asian Festival of Children's Content at Singapore for the first time, and the opening ceremony was the grand event at which the winner of the Scholastic Asian Book Award 2016 was announced. My unpublished work, Dragonflies, Jigsaws and a Rainbow, was one of the five shortlisted entries, and it was a wonderful feeling being there, waiting, anticipating …
The shortlisted entries were:
Chasing Freedom by Tina Cho (South Korea)
Codex: The Lost Treasure of the Indus by Aditi Krishnakumar (India)
Dragonflies, Jigsaws and a Rainbow by Varsha Seshan (India)
Island Girl by Ho Lee Ling, Stephanie (Singapore)
The Budding Traveller by Golda Mowe (Malaysia)
Aditi Krishnakumar won the grand prize of 10,000 SGD and a publishing contract with Scholastic Asia.
Tina Cho was the first runner-up, and Ho Lee Ling, Stephanie was the second runner-up.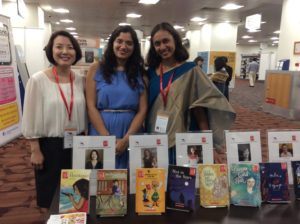 The whole experience was simply lovely! I met many warm, friendly people; I spoke to editors and publishers; I attended sessions on writing, marketing, publishing …
Over the next few weeks, I will try to write about the sessions I attended and enjoyed. AFCC 2016 was grand!