I began to read the book and licked my lips, wondering what I could say about it. A book by a dear friend can be a dangerous thing because you must have an opinion about it.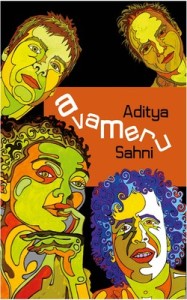 With Avameru, the opinion was easy. I enjoyed it.
Yes, in the beginning, I had thoughts in my head about how it was somehow not my kind of book. I don't read 'Young Adult' – perhaps that was why it wasn't appealing. Et cetera et cetera.
And then I finished the first fifty pages.
When I looked next, I had finished the book.
Pacy, exciting and engaging, Avameru brought to me a blend of adventure and energy that I love. Most importantly, it places story above all else. Story comes first. When the story catches your fancy and makes you want to know what happens next, you know you're hooked.
And this happened to me with Avameru despite the fact that I had already read the original (hand-written) manuscript.
I enjoyed the relationships amongst the characters. I thrived in the undercurrents and over-currents of attraction and ambition. The humour that laces the narrative made me chuckle, delighting in the awkwardness and melodrama that somehow became a daily affair the 'young man with a strange name' faced.
And yes, you may come across a Storyteller.