Yesterday, the Writers' Club at St. Mary's School welcomed Leela Gour Broome, author of Flute in the Forest and Red Kite Adventure. Mrs Broome introduced the children to her two books and the process of writing them.
"I'm not a fan of fantasy," said Mrs Broome when the children asked her what she reads. "I think we need more realistic Indian fiction that children can read!"
Her own books are inspired by experiences she's had through her close interaction with nature, experiences that definitely help her stories ring true. "Even when you imagine, there's a limit, right? For instance, you could write about a pony that is colourful and magical … Maybe the pony can fly. But would you be able to convince your readers that the pony can drive a car? Remember that the reader must be able to imagine with you, so don't let your imagination get away with you!"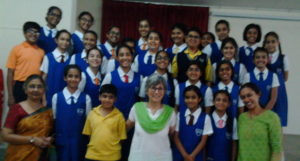 The children enjoyed interacting with her and asked a range of questions.
"Do you sometimes have a brilliant idea that you want to write down, but you forget before you get around to it?"
"Do you feel that your writing reveals what kind of person you are? If you write dark stories, does it mean that you have problems of some kind?"
What a lovely afternoon we had!