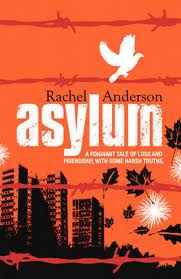 For once, the amount of time I've taken to read this says nothing about the book.
I remember reading Bloom of Youth. I was faintly unhappy with it. I then somehow ended up reading Grandmother's Footsteps and was so bored with it that I decided never to read Rachel Anderson again.
Thankfully, despite what the proverb says, I always judge books by their covers. When I picked Asylum, I did not even notice the name of the writer, and the cover was so significantly different from the other two that I'd read, that I realised much later that it was by an author I did not quite like.
I have to change my mind about that.
Asylum was beautiful, moving, haunting.
At a time when I know that getting a UK visa is tough, I wonder disgustedly at why we try so hard to get there.
This book shows me how many people think of it as a wonderland. No, a Wonderland. A book about illegal immigrants, Asylum  touches a part of me that was touched long ago when I read The Hunchback of Notre Dame and discovered that anyone – absolutely anyone – could seek sanctuary in a cathedral. Asylum shows how the UK offered sanctuary, in its own complicated way to people who sought shelter.
It's an age old tale of human emotion. It's the well-worn story of courage, bravery and faith. It's the story of cultures meeting and melting, religions puzzling over one another, and children discovering how beautiful language can be.
It's a story about how crikey mikey, the life can be as pretty as a picture, as bright as a button.