Standing there, behind the backdrop, we held our breath. We had been working with 43 Bal Vikas children with little or no knowledge of dance since May, and this was the outcome of all our efforts.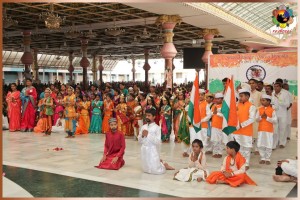 Working towards the performance for Ashadi Ekadashi at Prashanthi Nilayam was often frustrating, but ultimately, deeply rewarding. The children had practised just once at the final venue – the day before the programme. We finished practice around 10:30 at night and then the children got up at 3 in the morning for their make-up because all of them had to be ready by 7.
Contending against all odds, it happened.
In a flurry of movement backstage, we changed their costumes, changed their hair-dos and helped with their jewellery and make-up. But they did it. People were moved to tears. People came up to us over and over again to thank us.
Hats off to the children whose faith pushed them to make miracles happen. But above all, hats off to my teacher who took on a project that we thought was impossible. It was not just possible; it was beautiful.
Watch the complete programme here.