Often, invitation cards say that 'Arangetram' means 'ascending the stage'. Theoretically, all of us know that it is our first stage programme. Then why is it supposed to be so perfect? It is a beginning, an entrance.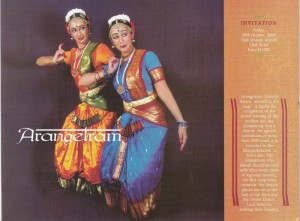 We often widen our eyes and raise our eyebrows at students who perform their Arangetram 'too early'.
At age seven? How ridiculous!
After learning dance for just two years? Tut tut. Nonsense.
Where do these ideas come from?
A book I'm reading tells me about many of the last devadasis.
Kumbakonam Bhanumathi (who described dance as 'the sweeter unheard melody of our music system') did her Arangetram at age eleven.
Pandanallur Jayalakshmi (whom Rukmini Devi allegedly tried unsuccessfully to imitate) completed hers when she was eight.
Thanjavur Balasaraswathi (about whom Satyajit Ray made a film) was seven when she did hers.
These are just examples. The Arangetram was the first step, performed at age 7 or 8 or 9.
Where does the modern idea of maturity for an Arangetram come from?
My study of Theory of Knowledge encourages me to be less prejudiced, less judgmental.
Maybe it is time for me to look at an 'early' Arangetram as truer to the origins of the word and its significance than my notions of the Arangetram are.