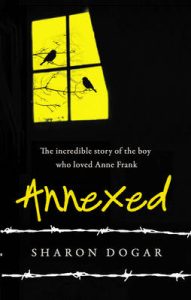 I was not planning to write a review of Annexed because of all the questions it raised in me about historical fiction. The Diary of a Young Girl, with its optimism and intimacy, made the Annexe come alive to all of us. I read it years ago and was left feeling hollow because vivacious Anne Frank, who died perhaps equally of loneliness and of typhus, could not have, should not have died.
But what of the others in the Annexe whom we see only through Anne's eyes? What of her father who survived and the others who didn't? What of Peter, the only young boy in the Annexe, who lived to be eighteen in a concentration camp?
Annexed is the story from Peter's point of view. Right at the beginning, I was uncomfortable. Peter and Anne were real people with real stories. Was it okay to create a fictional character Liese, with whom Peter is in love at the beginning of the story? And as things progress, is it all right to create conversations between Anne and Peter that we don't find in the diary?
On the other hand, though, isn't that how historical fiction works? Doesn't historical fiction allow these liberties?
Sharon Dogar is true to the text, down to footnotes about what the diary says and how she has brought the details into her story. It is a bold venture to write a tale about people we know so well – and yet, that was my problem with the text too. I was uncomfortable with fictionalising people who lived so recently, almost as if the book treads on sacred ground.
Yet, the reason I decided to review the book after all was because of the way Peter's identity is addressed. He does not want to be a Jew if Jews are treated like vermin. Anne, on the other hand, embraces her faith because that defines what she has become, if not what she is.
Peter wonders: why can't he pretend to be German? And what does that even mean? He is German!
Negotiating identity, understanding how rebellion works in difficult and dangerous times, standing up in whatever way for what is right – I think these are things that we need to remember today. When the dark times are over, whose story will we remember? Which side will history support?
Genocide, purity of race, concentration camps – these are frighteningly real today. If nothing else, historical fiction serves as a reminder. In the story, Miep Gies, who hides eight Jews, breaks down because she cannot protect everyone. She feels helpless, useless and frustrated. But without her, we would not have had Anne's story.
Annexed reminds us that fascism is not new, nor is resistance. We choose how we resist.
| | |
| --- | --- |
| Title | Annexed |
| Author | Sharon Dogar |
| Genre | Historical Fiction |
| Rating (out of 5) | 3.5 |
| Age-group | 12+ |