It's been a while since I wrote a book review, simply because I haven't been reading much for the last two months. I wrote about that for The Curious Reader – about reading old favourites, but not really taking the plunge and reading something altogether new. Finally, a few days ago, I settled into a newer kind of reading. I began (finally!) to look for books to buy and read on my Kindle to keep me going until libraries reopen and I feel comfortable enough to go visit them.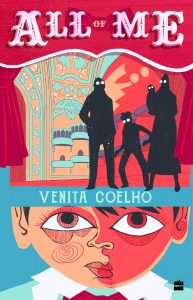 And the first book I bought was All of Me by Venita Coelho.
There are some books that when I read, I feel, "I write much better than that, come on! This story is … just … mediocre."
And then, there are some books that make me wonder why I am a writer at all when there are people who write so well, sucking you into the story and keeping you there, chapter after chapter.
Considering I never review books I don't enjoy, you know which category All of Me falls into.
All of Me filled me with empathy.
An 11-year-old boy, locked away for five years in a cellar – what would that do to him? How would he stay alive? What coping mechanisms would he need to keep going, day after day?
All of Me tells an incredible story, a story of love, pain, trust and betrayal. Young Castor, who has been locked up for five years, knows only one family – the Family in his head. When he is rescued by a young policeman Joshua, he learns that his uncle Palladio has been killed. Joshua, a thoroughly lovable character, befriends the boy and even accepts the Family. Castor begins to trust again.
Part of him wants to discover the truth about his uncle's death, but another part of him is terrified. What if his uncle Palladio, whom he loved, was actually a villain? Is the truth worth discovering?
Against the backdrop of Victorian England, where even the queen makes an appearance, we join Castor, Joshua and Mad Martin as they uncover the truth. Venita Coelho builds a wonderful world around us, a world full of fabled riches and eastern magic. I loved how the characters jumped out of the pages and how the world came alive. Best of all, I loved how family was portrayed. It was special.
| | |
| --- | --- |
| Title | All of Me |
| Author | Venita Coelho |
| Genre | Historical Fiction |
| Rating (out of 5) | 5 |
| Age-group | 11+ |