I always link my book reviews to amazon.in for people to buy the book there, but when I searched for Dick King-Smith's Ace, the first thing I found was a hardcover priced at ₹12,527.41 + ₹99 delivery charge! I did find a copy that's cheaper, though, and that's a mercy; however much I enjoyed the book, even I wouldn't pay so much for it!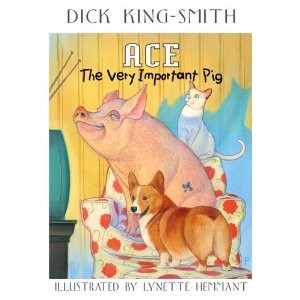 Ace is funny, lovable and altogether a hugely enjoyable half-hour's read. An author who has lost count of the number of books he has written has to be a master storyteller, and there's not doubt that that's exactly what Dick King-Smith is. If he's lost count of the number of books he's written, I've certainly lost count of the number I've read, and the number I've read more than once!
Ace is the story of a pig. A non-pedigreed pig, mind you, but a descendent of the famous Sheep-Pig Babe.
Ace is born with a remarkable mark of the ace of clubs on his side – but that is not his claim to fame, even though it does give him his name. Ace has the enviable talent of being able to understand humans and so he does …Unlike Clarence the cat, Nanny the goat and Megan the collie, Ace learns about television, beer and much more.