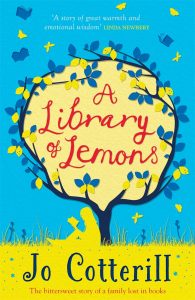 The cover of A Library of Lemons caught me with one line – 'The bittersweet story of a family lost in books'. A family lost in books. Like mine?
A Library of Lemons was nothing like anything I imagined. Young Calypso lives with just her father; her mother died of ovarian cancer when Calypso was just five. Half-remembered moments fill Calypso up – moments of warmth, hugs and laughter. Moments when her father smiled more and did not work all the time.
Above all, Calypso's father values inner strength. Inner strength is what makes it possible for you to live on your own, independent. If you have inner strength, you don't cry. You don't need a shoulder to cry on. And if the people you love die, you still carry on. You survive.
These are truths that Calypso knows, even though her inner strength somehow keeps deserting her. Perhaps she is not strong enough.
When Mae befriends Calypso, things begin to change. With wonder, Calypso realises that having a best friend can be more special than having inner strength. Each page unfolds new ideas – ideas of dysfunctional families, love and strength. Slowly, Calypso begins to discover what strength is – and what that means for her and for her father.
A beautiful, warm story, A Library of Lemons made me agree with Mae in feeling that happy-crying makes for the best kind of book.