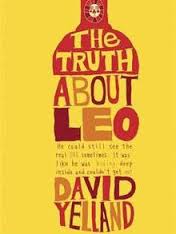 It's unfair to compare any book with any other book, I know that. Yet, I could not resist comparing The Truth about Leo with Moon-Pie. The subject was similar – a dead mother and a drunk father. But Moon-Pie moved me in a way that The Truth about Leo did not.
Leo spends each day covering up for his father Dr Rake. Dr Rake is a surgeon to the world, but nothing more than an alcoholic to Leo. Building a world of his own, Leo finds himself living there more and more so as not to face the realities of school and a drunk father. The careful, precarious world that Leo has built begins to fall apart when a bottle of vodka rolls out of Leo's bag. Dr Rake chooses a new place to hide his bottles each day – that day he chose Leo's school-bag.
The Truth about Leo is an important book. In addition, it is moving and, in places, hurtful.
Yet, I wanted more. I wanted to cry out. I wanted the book to take hold of my insides and twist them. I finished the book feeling a little incomplete.
| | |
| --- | --- |
| Title | The Truth about Leo |
| Author | David Yelland |
| Genre | Children's Fiction |
| Rating (out of 5) | 2.5 |
| Age-group | 11+ |