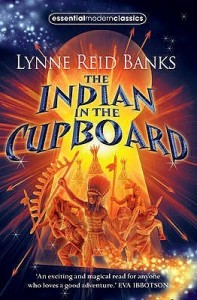 I picked up The Indian in the Cupboard full of apprehension. For a long time, I have intended to read this book. Yet, I have realised of late that I have read so much modern writing that older writing seems dry and slow. 1980 is rather a long time ago, and I was not sure how much I would enjoy the book. I was scared I would be offended by the term 'Indian'. I wondered if the part of my mind that studied English literature and critical theory would find the book racist or offensive.
It did not.
The Indian in the Cupboard was so charming that the part of my mind that could have judged it as racist dozed off just for a little while. I was not offended by the broken English the "Indian" spoke, or by the simple mind Little Bull seemed to have. I enjoyed the book tremendously.
When Patrick gives Omri the plastic figure of an "Indian" for his birthday, Omri is unimpressed. Yet, the collection of gifts he gets makes magic happen. When he places his Indian in a cupboard given to him and turns the key, the Indian comes alive! Omri quickly realises that the Indian is no longer a toy, but a real living human being with a life that is as precious as his own. His adventures with the Indian are lovely. They made my eyes widen in wonder and made me turn the pages faster and faster to find out what happens next. I would love to read the rest of the series!