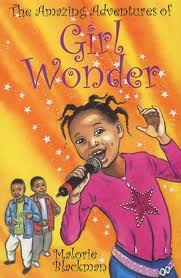 Books like this always make me wonder what draws the line between a silly, unreadable book and a funny book that you read with an indulgent smile. Why is it that sometimes stories with morals appear preachy and redundant whereas the most beautiful stories of all teach you lessons for life that you already knew?
The Amazing Adventures of Girl Wonder was silly, but not unreadable.
It was full of histrionics that usually annoy and almost embarrass me, but this just made me read on with half a smile.
The stories were utterly random put together under one common head, but I still enjoyed myself.
The question remains – why?