Too much telling and too little showing.
Never mind. I'll read some more.
This is strange and unbelievable.
Never mind. I'll read some more.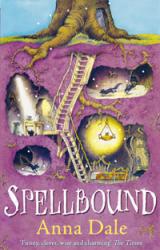 That is exactly how I ventured into Spellbound. And before I knew it, I had finished reading it.
Athene and Zach are opposites in every possible way. They just happen to be brother and sister. Athene hates Zach. She hates him, resents him, and takes joy in bringing him grief.
Zach, on the other hand, is a happy-go-lucky kid and never seems to mind that his sister Eeny is always nasty to him.
Everything changes when Athene meets Humdudgeon and Huffkin, two members of the Humble Gloam. In a world where Athene, a day creature, is called a 'Glare', the young girl finds the perfect way to get rid of Zach. But she does not account for the guilt that kicks in and compels her to take risks she would never have dreamed of facing for herself, let alone for her despicable brother …
Spellbound carried me away with it, immersing me in a world of make-believe that grew more real with every page I turned.
| | |
| --- | --- |
| Title | Spellbound |
| Author | Anna Dale |
| Genre | Fantasy |
| Rating (out of 5) | 4 |
| Age-group | 9+ |