Fifteen years ago, I went scuba diving for the first time. Fresh out of school, I wrote SCUBA, not scuba, because I knew it was an acronym (and probably wanted to show off that I knew).
I remember standing on the white sand of Lakshadweep. It was all a bit overwhelming. There were sixty of us, on a Lakshadweep camp. I was at an age when I wanted to fit in, but did not want to fit in. I wanted to be welcomed, but just did not belong. Lakshadweep, with its breathtaking beauty, took me out of my own deep-rooted self-consciousness. I snorkelled to the end of the lagoon, watching blue surgeon fish. I remember deep sea snorkelling on our last day there, and can still feel the thrill that ran through every pore of my being. I remember running my hand along the sea weeds when Mr Shaukat Ali held my hand and took me under water.
And when I went to Krabi last month, everything flashed through my mind. The fear, the anticipation, the constant equalising of pressure in the ears … Could-we-couldn't-we-could-we-couldn't-we-could-we scuba dive?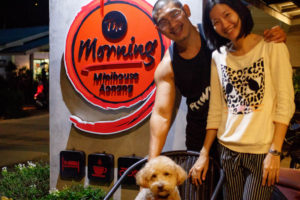 It was expensive. That was the first thing on our minds. Even with a discount that we haggled for, it was 3,200 THB per head. One baht is roughly two rupees, so we were looking at paying 6,400 rupees per head. Would it be worth it, or all a gimmick? We aren't licensed scuba divers. Would they just take us underwater and say, "There you go, that's all we can do for you"?
They didn't.
I would rate my Krabi Diving Centre experience as one of the best in my lives. The people were lovely; the whole experience was incredible! The first thing that struck me was that they set us completely at ease. They told us to sit wherever we liked – on the deck, in the driver's cabin, anywhere. They didn't stingily hand out water bottles to us; they let us help ourselves, as many bottles as we liked. And I think that made all the difference.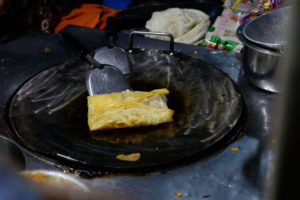 Sitting in the sunshine on the deck, we were given instructions. I had a lovely instructor, who kept forgetting my name.
"Varsha," I said again. "It means rain."
"Ah, rain, rain!" He paused. "May I call you fon?" He chuckled. "Rain in Thai."
I grinned and nodded. Why ever not?
And then, we had the first of our two dives – forty minutes long. We saw clownfish and sea urchins, lionfish and stingrays. How can I even begin to talk about the wonder of it all? Over and over again, we found ourselves saying that beautiful fish were 'flying' above us, simply because our language is so rooted in our regular earthy experiences with air above us.
I bit hard on my breathing apparatus, filled with stress of all kinds, particularly that the coral and fish threatened to take my breath away.
Breathe, I had to tell myself, breathe.
If my instructor goes away, I don't know how to go up!
Never mind. Maybe you could abandon your cylinder. Just pull off the black jacket.
But what about the belt I'm wearing?
Pull that off too.
But how?
Before I could find an answer, my instructor was holding my hand again, showing me brilliant blue fish and curious yellow fish.
Bubble-bubble-bubble, I said. Bubble-bubble-bubble.