If I don't read, I can't write. It's as simple as that.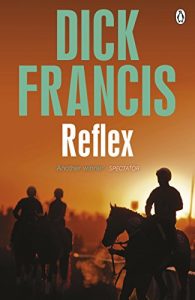 My mother introduced me to Dick Francis years ago, and I never imagined I would like more than one odd book about jockeys. I'm not horse-mad, and I don't like the idea of horse races. It's a lifestyle about which I know nothing. In Reflex, Francis too answers the question as to how racing contributes anything at all to society and to humanity. Yet, I find myself turning to Dick Francis every now and then for different reasons – the stoicism of his characters, the simplicity of the narrative, and the pace of the story.
Reflex, like so many other works by Francis, explores a world about which I know little, or rather, two worlds about which I know little. It is, as usual, set within the racing circle, but the narrator is also a passionate photographer, solving puzzles left to him by another photographer, George Millace. The relationship between the narrator and the now dead photographer George Millace is wonderfully drawn, with an understanding of cynical philanthropy that is truly remarkable. I loved the gentle ethical questions raised by the story. It raised all those story-writing questions in me once again too. What is the role of a writer? Must writing be well-researched? Which is more important to me – plot or character?
And I know that when I need time to mull over a book, it's a powerful one, whether I like it or not. When I like the book as well, it's just that much better.