As of yesterday, I had no registrations for my reading workshop. I decided to go to Friends Library anyway. Three children came. And then one more. And one more. And one more promises to come tomorrow – all in all, it was delightful.
Among other things, we played Pass the Story – a cross between Pictionary and Chinese Whispers, with the element of stories added into it. Here's how it works:
Participant One picks a chit. Suppose it says 'Geronimo Stilton'. Participant One draws Geronimo Stilton and passes on his sketch.
Participant Two makes a guess. Suppose Participant Two guesses 'rat'. He writes 'rat' on a sheet of Paper and passes it on.
Participant Three draws.
Participant Four guesses.
And so on.
It's a hilarious game.
Harry Potter became Wimpy Kid.
And Sleeping Beauty became Barbie, as did one of the seven dwarfs.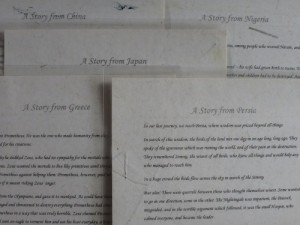 The world of stories continues tomorrow – here's what I have planned!