I think local cuisine is a big part of the travelling experience. At Hotel Prateek in Jodhpur, the menu card had a little note telling me what to visit and what to eat! And I love meeting new people when I travel; it's all part of the experience!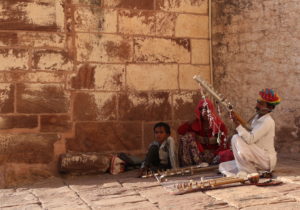 Walking down from Mehrangarh Fort, we met a couple standing outside their little blue house. It was a steep slope, and we really had no idea where we were headed. We wanted to know whether we would get a rickshaw at the foot of the hill.
"Bilkul! Kyun nahin? Lekin kahaan jaaoge aap?"
"Bas, poochna tha … Rickhsaw milega, to theek hai!"
He clicked his tongue. "Paidal hi chale jao! Ghantaghar ke ek taraf se andar jaakar doosri taraf se nikalna. Vahaan se aap seedha jaakar nayi sadak dekh lo. Aur phir, Hotel Priya mein dinner kar lena. Sirf Priya mein khana, theek hai? Baki sab bekar hai, vegetable bahut ganda hai!"
Further down the hill, we met this wonderful person.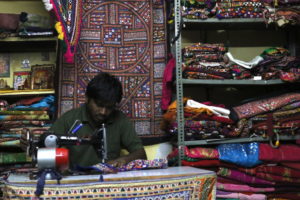 He sources material from Gujarat and Afghanistan, and makes his bags right there. He even has an online shop, and has an exhibition coming up in Wales!
At the Ghantaghar, we met this incredible gentleman.
He has been taking care of the clock for the last 30 years. Before him, his father was the caretaker, and in the future, his son will take over.
And, of course, we came to the food. We ate at Priya Hotel, as we were advised to do, but honestly, it was not the highlight. The highlights were lassi makhaniya at Shri Mishrilal (established in 1911) …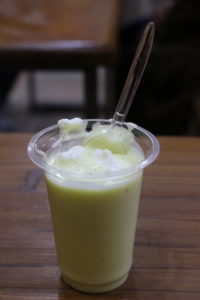 … and samosas at Shahi Samosas.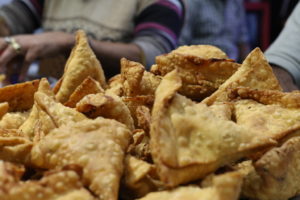 Both are close to the Ghantaghar gate. One is on the inside, one on the outside of the market compound. Both are well worth a visit! I, a hardcore sweet lover, was overdosed on sweet when we left Rajasthan!