Perhaps Peppy created "Peter Piper picked a peck of pickled pepper corn."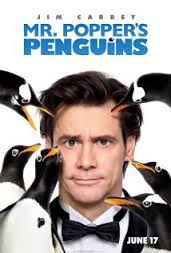 Because Peppy, Mr. Popper's personal assistant, takes particular pleasure in paraphrasing paragraphs to produce passages that permit plentiful pronunciations of /p/.
What a delightful movie!
Why is it, though, that I cannot watch a movie with animals in it without wincing inwardly at the thought of how those animals were trained?
While watching horror movies, I find it difficult to step back and think of the characters as actors. While watching movies with animals, I cannot involve myself enough to be swept away by the love and loyalty of the animals.
Mr. Popper's Penguins taught me a valuable lesson about story-telling, though. A story does not need to be entirely believable. That's what imagination is about. I think the perfect story manages to unite simple joys and simple treasures with crazy situations that you're willing to believe. Of course penguins cannot possibly survive in an apartment. Of course animal rights activists would protest. Of course you can't simply go to Antarctica and pick up or deposit penguins.
But it doesn't matter.
Of course we can be touched by family love. Of course we can be moved by loyalty. Of course we are warmed by generosity and forgiveness.
A lovely movie.
Even if I still wonder how the penguins were trained.