Jodhpur – how welcoming you were to us! I know that Jodhpur, much more than Jaipur, is a place I'll visit again!
After my workshop at Central Academy, Pal, I heard stories about the Jodhpur Fort. I heard about how there are people who do not want to leave Jodhpur because they cannot live without their daily darshan of the fort. I don't know how true that is, but it is true that the fort took our breath away!
Sure, India has many beautiful forts. I've been to a few. Sinhagad – I've been more times than I can count. Daulatabad – I went long ago, and among the few things I remember is the fact that the whole place smells of bats.
Mehrangarh Fort
| | |
| --- | --- |
| Cost per adult (Indian) | Rs 100 |
| Still camera | Rs 100 |
| Audio guide | Rs 170 |
| Visit duration | We spent just about two hours. I recommend three hours at least! |
Mehrangarh Fort was something else. From the structure of the fort to the way it is managed, I was charmed! Run by the Mehrangarh Museum Trust, the fort is not just clean, but well-marked and even has an audio guide, for which I had to give my licence as a security deposit. "Pick it up at the end of the tour, near point 33," I was told. "You don't need to come back here."
"How will you send it?" I asked.
"By pigeon," he said, pointing.
He responded so seriously that just for a moment, I wondered if he meant it! Particularly since there were so many pigeons there anyway!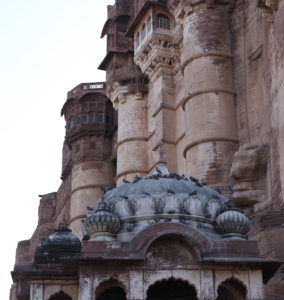 Armed with our audio guide, we walked through the fort, looking at details we would never have noticed without the guide. We saw the big iron gate with spikes, located at a sharp turn so that elephants would not be able to build up the momentum to charge. Rao Jodha ousted a hermit in order to build the fort and was cursed for it – Mehran would never have enough water. Afraid, Rao Jodha tried to appease the gods, and learned that a life would have to be sacrificed. A poor man volunteered – and was buried alive there. All that remains is a fading inscription saying that his sacrifice will never be forgotten.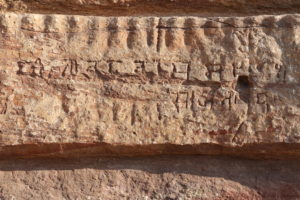 Full of stories, the audio guide took us through the armoury, the Moti Mahal, the zanana … It was awesome. We looked down at the Blue City of Jodhpur below. It is blue because of the indigo used in the paint, which keeps houses cool in the summer and warm in the winter. It was simply charming!