You know how fancy, hoity-toity people tell you that when you go to Rajasthan, you absolutely must stay in a palace?
"It's part of the experience," they say.
And depending on the kind of person you are, you may nod politely and say mentally, 'Ya, right', or you may just shoot the suggestion down.
We didn't stay in a palace, no, but we did stay at Kothi Heritage, which was used for two months in a year as a vacation home. And how was that possible? Because Make my Trip offers you a free night when you do a certain number of bookings!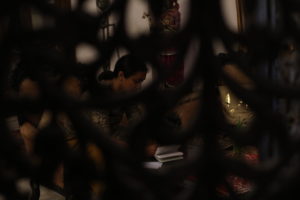 Kothi Heritage belonged to Shri Bachhraj Ji, Senapati to the Maharaja Jaswant Singh (IInd). Many, many years later, his great great grandsons Tapan and Trideep Singhvi decided to convert it into a heritage hotel. They handpicked the furniture and set it up — and it's truly charming. We had breakfast outdoors on the lawn in perfect weather. (I doubt if the Singhvis had much to do with that …)
Then we went to the beautiful lobby, with its low seating, its carrom board and its chess set, and then back to our room. Our room was tiny, but it was so lovely! The cupboard, bed and dresser were just perfect. And when that kind of ambience is put together with modern amenities in the bathroom, what more can you possibly need?