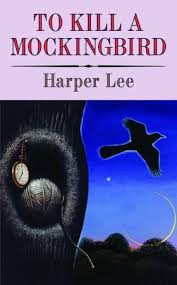 Atticus, Atticus … How I love you! Who says that you are not a good parent?
To Kill a Mockingbird is moving, painful and joyful. It fills my heart with the goodness and stupidity of humanity.
When I read a story like To Kill a Mockingbird, I feel the power of literature. Literature can echo in your head with phrases and pictures that make you want to close your eyes and relive each moment.
A man, be he any colour of the rainbow, is equal in the eyes of law.
I love that.
I remember that one line from the first time I read it, when I was too young to treasure more bits and pieces. I love the idea of people being different colours of the rainbow. And even this imagined violet/green/red man is equal to the white man in court.
I can see in my head the court scene, Mayella Ewell and Tom Robinson. I can see Aunt Alexandra, who can behave like a lady even in the worst of circumstances.
And Scout Finch – how can one not fall in love with your fallible, innocent wisdom?
To Kill a Mockingbird is a classic that is told by a child and is written about children, but more loved as I grow old enough to understand all the ugly things of life and begin once more to search for beauty.