The British Council Library and Artsphere Pune hosted a screening of the movie "Gnomeo and Juliet", and I was invited to talk about the movie, about Romeo and Juliet, and about Shakespeare. I was tremendously excited – I love working with the British Council; I was going to work in a new venue with a new audience; I was going to work with Shakespeare!
I began my preparation by re-reading Romeo and Juliet. I have an edition of the complete works of William Shakespeare that used to belong to my grandfather. Within, I found this …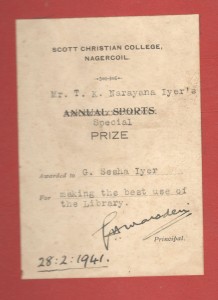 … and I read Romeo and Juliet with a smile.
The movie was fun, but after an 81-minute long screening, the children were not really in the mood for anything else.
Yet, when we began to talk about Shakespeare, many slowly grew excited. We spoke about the challenges players faced in the sixteenth and seventeenth centuries, and the fact that Shakespeare's name was spelt in about 80 different ways. Only one child in the group managed to spell his name "correctly", that is to say in the way we usually spell his name today. We spoke about how women were not allowed on stage, and how players were the only class of society allowed to dress above their station in life. It was not a long session, but all in all, it was fun!