Yes, I picked it up because of its name. No surprise there. Wouldn't you pick up a book that seemed like a guidebook to capturing an invisible cat? I'm sure you don't know how to do it, and who knows when you'll need to?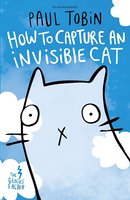 How to Capture an Invisible Cat was a funny book, one that was funny enough for me not to read it in public so as not to appear crazy. More importantly, there were lots of parts that were my kind of humour. I'm not a big fan of slapstick comedy, or "disgusting-therefore-funny". I love word play, sarcasm and cleverness. And that's why I loved How to Capture an Invisible Cat.
No one suspects that Nate is a genius. His classmates think he's one of those quiet nerds, definitely not the kind of person they want to mix with. When Nate's dog Bosper smells something special about Delphine, Nate puts on a fancy scientific dog-nose–and smells it too. He sniffs out the fact that Delphine is a friend!
From scientific detail to things that I found downright impossible, I enjoyed the book almost entirely. I understood why it was part of The Big Friendly Read reading challenge too – it's the kind of book that people who enjoy the whackiness of Dahl's writing would love!